Become a CSS detective in 3 easy steps:
Know the background information
The Detective Guide
About the book
You may be a novice or well on your way to developing your skills in HTML and CSS, but if you've had the experience of thinking your CSS was perfect-up until the moment you test your pages in different browsers-then this book is for you.
About the author
From the innocent beginnings of teaching herself HTML in 1996 (and dreaming in it for a while), Denise R. Jacobs is now a web industry veteran with over 13 years of experience, ranging from project management, instructing web design/development, and now writing and speaking. She loves empowering novices by teaching them about the web.
Follow the Trail
Make an Inquiry
Got questions? Email info (at) cssdetectiveguide (dot) com
Identify suspects, launch your investigation, and find the culprit
The Chapters
The book begins with the basics of CSS with a special emphasis on common causes of problems, and then covers methods for giving your code the third degree - isolating issues to find the roots of the problems. You'll also get a look at the line-up of usual suspects: the common problems and persistent bugs that are often encountered in CSS.
Finally, you'll put the tools to the test with hands-on cases designed to teach you how to solve CSS problems of your own.
Part One: The Detective's Apprentice

Investigating the Scene of the Crime
The Tools of the Trade
Giving the Third Degree
The Usual Suspects

Part Two: The Game's Afoot!

Below are chapter's files for download and live versions of the case example sites.
Take action and close the case!
Order through PeachPit.com and get 35% off the list price plus free U.S. shipping. Use coupon code DETECTIVE on the checkout page. Offer expires 12/31/2010.
Get Goodies
Did you see one of the groovy CSS Detective Guide tees out and about and feel you can't live without one?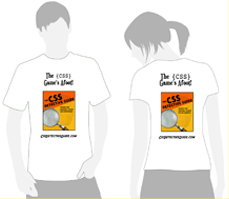 Email info (at) cssdetectiveguide (dot) com and we'll make it an open and shut case.